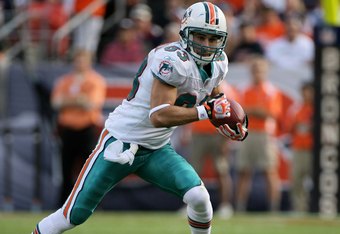 Multiple sources have confirmed the dealing of wide receiver Greg Camarillo to the Minnesota Vikings in exchange for seventh-year veteran corner Benny Sapp. It's tough to say goodbye to Camarillo, who has been as reliable as they come, didn't drop a pass last year, and is responsible, after all, for the only win in an otherwise miserable 2007 season.
In reality, though, as hard as it is to say, he's probably already hit his ceiling as an NFL player due to his limited physical ability, and with Brian Hartline and Davone Bess already edged in stone ahead of him on the depth chart, the Dolphins were wise to free up a roster spot for a young prospect like Marlon Moore or Roberto Wallace.
Sapp comes to Miami with a respectable resume. In six seasons with the Kansas City Chiefs and Minnesota Vikings, Sapp has started 17 games, and is fresh off a career-high 7 starts a year ago. During that span, Sapp has defensed 21 passes, picked off four, forced four fumbles, and has accounted for 169 tackles. More importantly, he's spent extensive time as a nickel corner, which appears to be the main motivation behind his acquisition, with no concrete time table for Will Allen's return in place.
The roster fringe receivers may be celebrating this afternoon, but the same can't be said for Nate Ness, who impressed in the preseason opener, but is now officially a long-shot to make the team. Obviously, Sean Smith and Vontae Davis are locks, Will Allen is as well if he makes the full recovery he's expected to, Nolan Carroll isn't going anywhere, and the Dolphins have to be planning on keeping Sapp if they were willing to trade away Camarillo for his services.
That leaves former first-round pick Jason Allen and Nate Ness the only realistic candidates for a sixth corner. If the Dolphins decide to keep six, which is a good bet a the moment with Will's uncertainty, you have to think Jason Allen gets the nod as of now, due to his solid special-teams play. That's why Ness will have to imitate his Tampa Bay performance in both the third and fourth preseason game if he wants to make the cut.
Before we say goodbye to ol' reliable once and for all, let's take a look back at the day when he saved all of us the embarassment that would have come with the first 0-16 season in NFL history.