After selecting Ryan Mallet with the 15th overall pick in the Bloguin mock draft, my mind couldn't help but wonder to the later rounds of the draft and the other needs that the Dolphins desperately need to address. With that in mind, I decided to put together a seven-round Dolphins' mock that attempts to fill all of their voids.
It's composed with a bit of an optimistic mindset, as my dream scenario is played out with the Dolphins trading down in the first round, acquiring a second-round pick, and still getting a potential franchise quarterback in Ryan Mallett. But nonetheless, I think it puts us in the ballpark as far as the caliber of prospects that could be available in each round and does a fairly adequate job of potentially filling all of the Dolphins' holes.
Round 1, Pick 15: Dolphins trade 15th overall selection to team within picks 25-32 for their 1st and 2nd round draft choices.
Round 1, Pick 25-32: Ryan Mallett, QB, Arkansas- I'm sticking with Mallett in the first round for the time being. Still believe he's the best pure passer in this year's class and could be the Aaron Rodgers of this year's draft despite concerns about his mobility and character.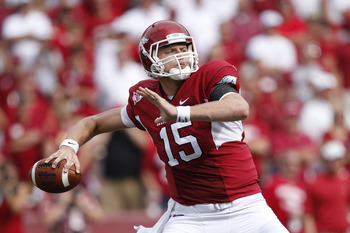 Round 2, Pick 25-32: Clint Boling, OG, Georgia- I think the Dolphins address the interior offensive line before they look to bring in a running back. Boling plays with the type of nasty streak Tony Sparano loves, and could start from day one for the Dolphins.

Round 3, Pick 79: Shane Vereen, RB, California- Vereen doesn't excel in one particular area, but he has the speed to get to the edge and the size to run between the tackles. Overall, just one of the more balanced backs in this year's draft and would give the Dolphins excellent value in the third round.

Round 4, Pick 111: D.J. Williams, TE, Arkansas- The Dolphins would be thrilled if D.J. Williams is still on the board when they are on the clock in the fourth. You shouldn't read too much into their pre-draft interest in Williams, which has manifest itself in a few private workouts, but if he's still available in the fourth round it just makes too much sense. Anthony Fasano is a solid tight end, but the Dolphins need a guy who can rack up receptions up the seam.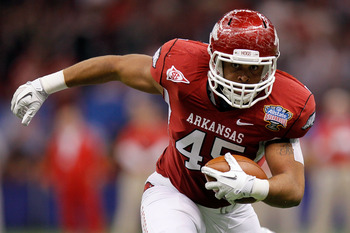 Round 5, Pick 146: Ronald Johnson, WR, USC- Johnson would provide some much needed speed to the Dolphins' receiving core. He probably wouldn't be ready to challenge Hartline for that number two role opposite Marshall, but could unseat Nolan Carroll as the Dolphins' kick returner.

Round 6, Pick 179: Taiwan Jones, RB, Eastern Washington- I highly anticipate the Dolphins doubling up on running backs just like they did with defensive end in 2008 and cornerback in 2009. Jones may be getting overlooked as a small school prospect, but his speed is hard to ignore. He's one of the top five fastest players in the entire draft, and would give the Dolphins' offense some much needed big-play ability. He would also be another kick/punt return option.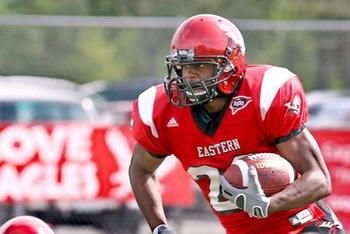 Round 7, Pick 216: Justin Trattou, OLB, Florida- The Dolphins will likely be loading up on offense, but they could use some depth at outside linebacker. Trattou wouldn't provide them with the pass rushing ability they need, but could push for a roster spot on the strong side if he can excel on special-teams.
Round 7, Pick 217: Sitanilei Tupou, NT, Western Oregon- Paul Soliai is under contract for the 2011 season, but the future of nose tackle is still in doubt. Tupou could be a nice developmental prospect just in case negotiations with Soliai go south.
Round 7, Pick 234: Sampson Genus, C, South Florida- Richie Incognito will start for the Dolphins at center in 2011, but a couple solid games there in 2010 doesn't guarantee that he will succeed. Genus likely doesn't have what it takes to be a starter in the NFL, but could compete with Joe Berger for that backup role.