The NFL has seen better days. With the lockout preventing free agency and trades, combined with the fact that this is typically the dullest time of the year anyhow, life can be difficult for us bloggers. But that doesn't necessarily mean we can't have any fun.
Daniel Eliesen and I collaborated on a new series to help pass the time between now and whenever these owners and players decide to stop putting the 2011 season in jeopardy. Our idea? Put together an all-time Miami Dolphins team.
It will be constructed like a normal 53-man roster, but will feature the greatest players to ever don the ol' aqua and orange. We are going to ignore the fact that players are typically bigger and faster these days. This team will be put together with the mindset that players that were great in the 70's would be just as dominate in today's game. Obviously, that is probably far from the truth, but that is the most precise way to honor the greatest and most influential players of this proud franchise.
Daniel and I are going to split up the roster and each take half of the positions. It should be interesting to see how our different viewpoints balance out and what this team ends up looking like.
Today, we kick this thing off with none other than quarterback. A difficult task to say the least. So much room for debate here. There's just no clear cut number one quarterback in Dolphins' history. Hopefully, you sense my sarcasm.
As always, feel free to chime in with your two cents in the comments. If you disagree with who we have here at number one, though, you probably should just quit reading now and stop watching sports all together for the rest of your life.
1) Dan Marino (1983-1999): As the greatest player in franchise history and one of the most prolific passers the league has ever seen, Dan Marino shattered nearly every statistical passing record when it was all said and done.
He exploded onto the scene in 1984 by throwing for what was an NFL record 48 touchdown passes and what still is 5,084 passing yards, in a year I still argue was the greatest single season any quarterback has ever had. At the time, most offenses were still heavily predicated on the run-first scheme. Marino was a revolutionary and was truly ahead of his time. Unfortunately, the Dolphins were beaten decisively by the 49ers in the Super Bowl that year 38-16.
But Marino was far from done, going on to lead the Dolphins to winning season after winning season and breaking records left and right while he was at it. When it was over, Marino had thrown for more yards (61,361) and more touchdown passes (420) than any other quarterback. Brett Favre has since went on to top those marks. Not taking anything away from Favre, but to put things in perspective, he had 1,811 more pass attempts in his career.
Marino gave this franchise some of the best years and most meaningful memories it's had. But when talking about his legacy and the impact he had here in Miami, it's always somewhat bittersweet. The biggest on-field tragedy in Dolphins' history and arguably one of the biggest in sport's history is that Marino never won a Super Bowl. It gives guys like Joe Montana, Peyton Manning, and Tom Brady the edge when discussing the all-time great quarterbacks. But as far as Miami Dolphins' history is concerned, Marino stands alone and is undoubtedly the number one quarterback on our depth chart.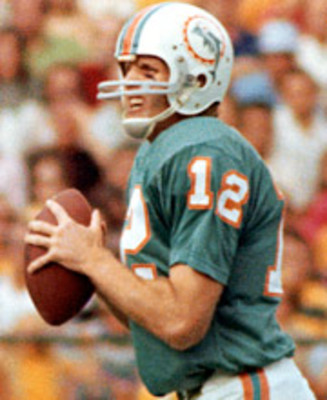 2) Bob Griese (1967-1980): Griese was far from the quarterback Marino was statistically, and actually threw more interceptions than touchdown passes in 5 of his 14 seasons. But the man was a winner. Griese was the starting quarterback for the league's only undefeated team in 1972, even though he missed 6 regular season games due to injury, and he led the Dolphins to back-to-back titles the following year.
Although, you have to keep in mind that quarterbacks weren't nearly as instrumental in winning championships in Griese's day and age. The Dolphins unleashed a heavy running offense in the 70's with Larry Csonka, Mercury Morris, and Jim Kiick. Sometimes they only asked Griese to throw the football a hand full of times per game.
Having said that, though, Griese should be commended on his team first attitude, and his leadership was still a monumental influence on this franchise's only Super Bowl winning teams. As the second longest tenured starting quarterback in team history, there really isn't another passer worthy of consideration here.

3) Chad Pennington (2008-2010): This may be a little bit controversial but who else could I have picked here? I almost went with David Woodley because he was the starting quarterback in the strike-shortened 1982 season when the Dolphins lost Super Bowl XVII to the Washington Redskins 27-17. But I think it was clear that the Dolphins made a Super Bowl run that year despite Woodley, not because of him, as the man threw 63 interceptions to only 48 touchdown passes in his career.
Believe it or not, I also considered Jay Fiedler here. Yes, Jay Fiedler. Say what you want about the guy, but the Dolphins were 36-
23 with him at the helm. But I think we can all agree that with that defense, the Dolphins would have been perennial Super Bowl contenders with more consistent quarterback play.
So I went with Chad Pennington. Yes, he only had one good season with the Dolphins, assuming of course that he's done, something that has yet to be confirmed. But that 2008 season was something special. The Dolphins completed what is tied for the greatest turnaround in NFL history, following up a miserable 1-15 season in 2007 by going 11-5 and capturing the AFC East title.
Despite all the praise Bill Parcells got, nobody made that magical season possible like Chad Pennington. He was just what a roster with limited talent needed. He was extremely accurate, didn't make mistakes, and was the leader the Dolphins were desperate for. His 3,653 yards, 19 touchdowns, and only 7 interceptions was arguably the best season any Dolphins' QB has had not named Dan Marino. The NFL's all-time leader in completion percentage is the third best quarterback to ever play for the Dolphins, in my opinion. Hopefully, that changes soon and the Dolphins find a franchise quarterback in the near future. Like, this season.